Focus Financial Partners, a leading partnership of independent, fiduciary wealth management firms, tasked Ted Moudis Associates with reimagining their working environment—located on the 28th floor of a New York City Midtown office tower. The workplace design team created a transparent, flexible, and collaborative space with an open-floor plan of free-flowing spaces and sustainable and wellness elements.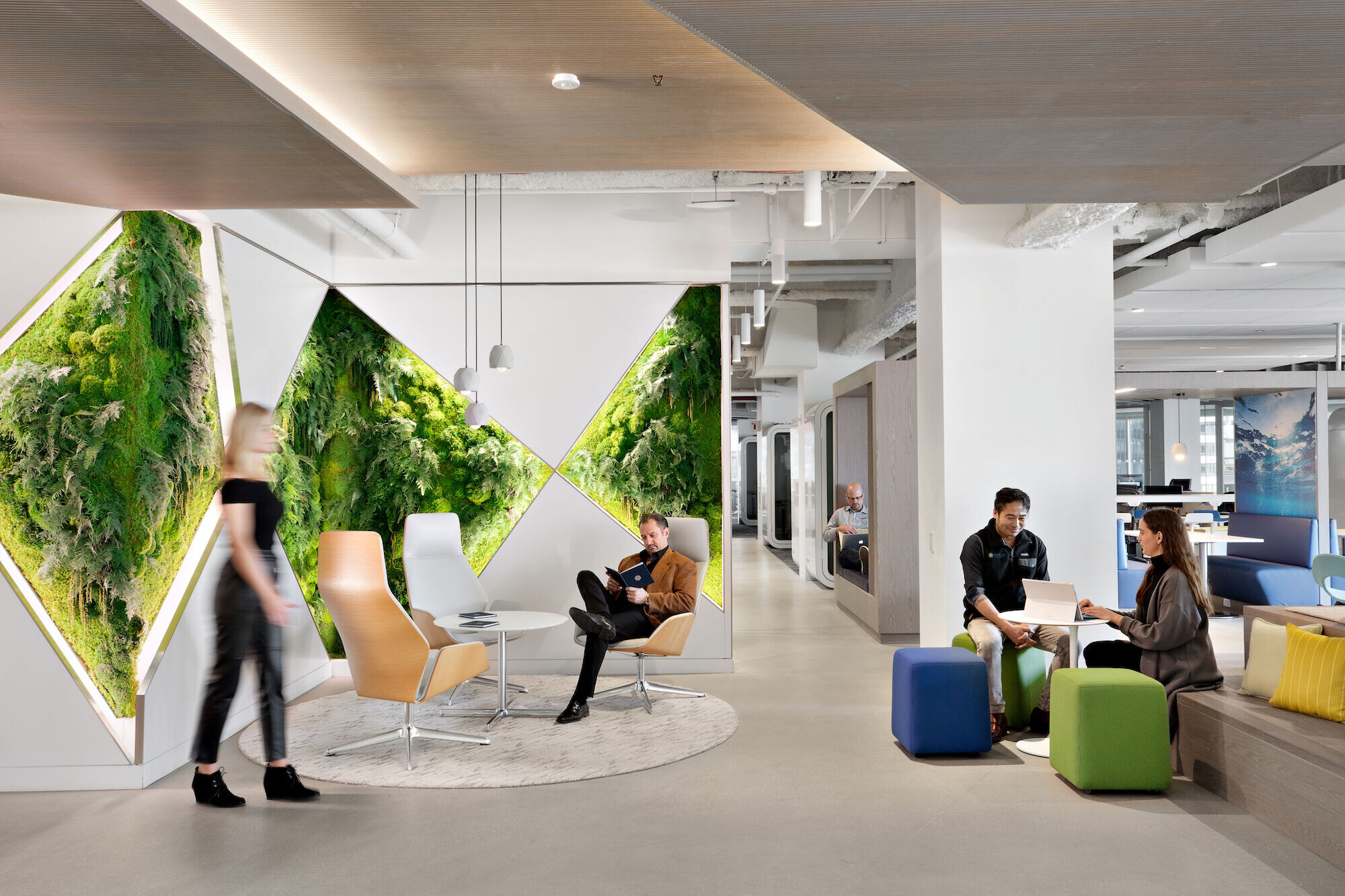 Ted Moudis Associates helped Focus Financial Partners embrace an activity-based workplace approach. The space consists of a combination of relatively small enclosed rooms, "work bench" style workstations, and 120-degree workstations, allowing employees to choose their individual spaces. The firm also allowed maximum daylight throughout the space to create an open, bright and airy environment. All enclosed rooms facilitate a visual connection and the transfer of daylight through glazed walls.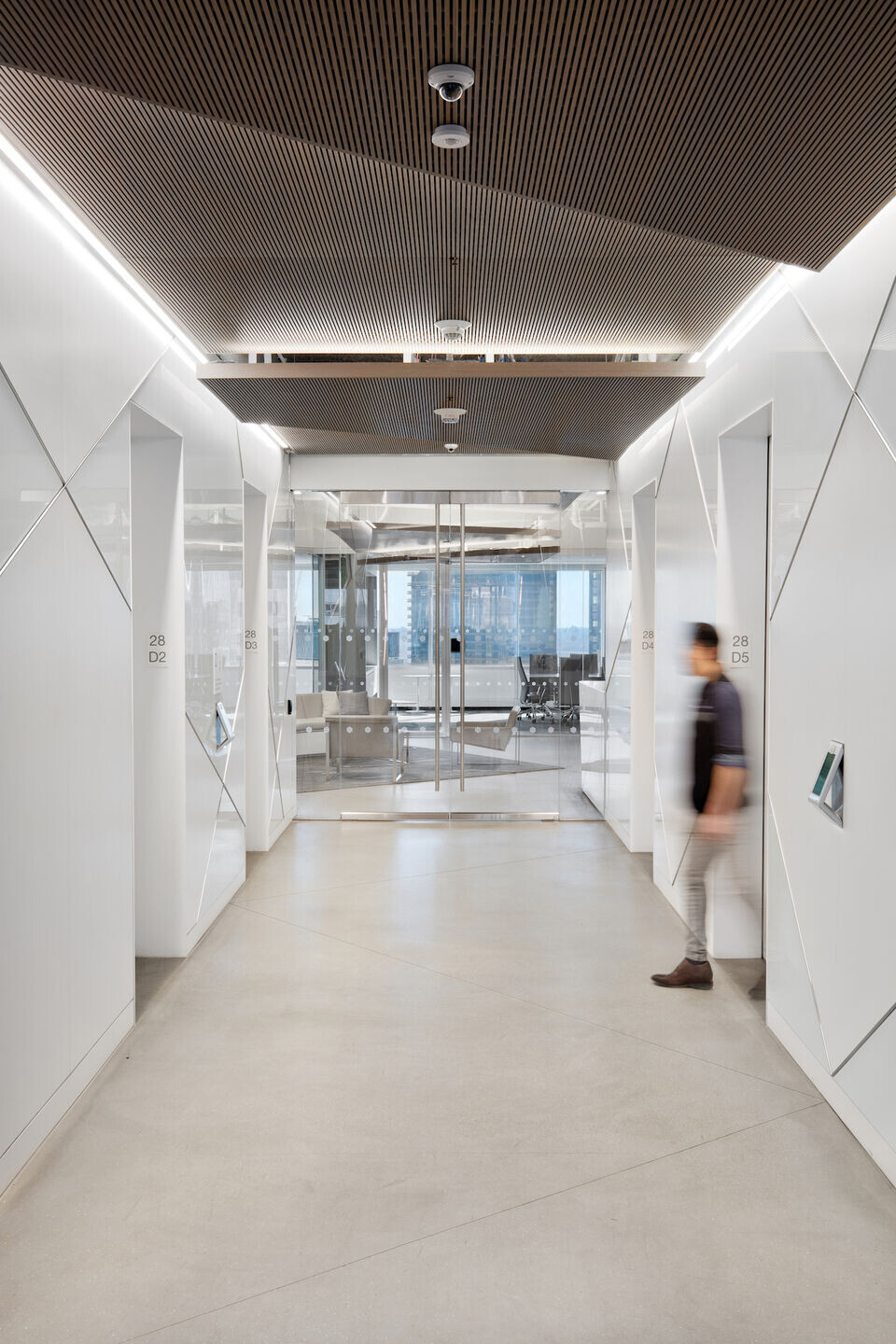 To support the health and wellness needs of Focus Financial Partners' team, Ted Moudis Associates provided several key features that include an in-house gym, green walls in the reception lobby and staff cafe, and an innovation lab where staff members convene to brainstorm and develop new ideas. The team also incorporated sustainable elements such as LED lighting fixtures and carpeting made from pre-consumer recycled content carpet tiles.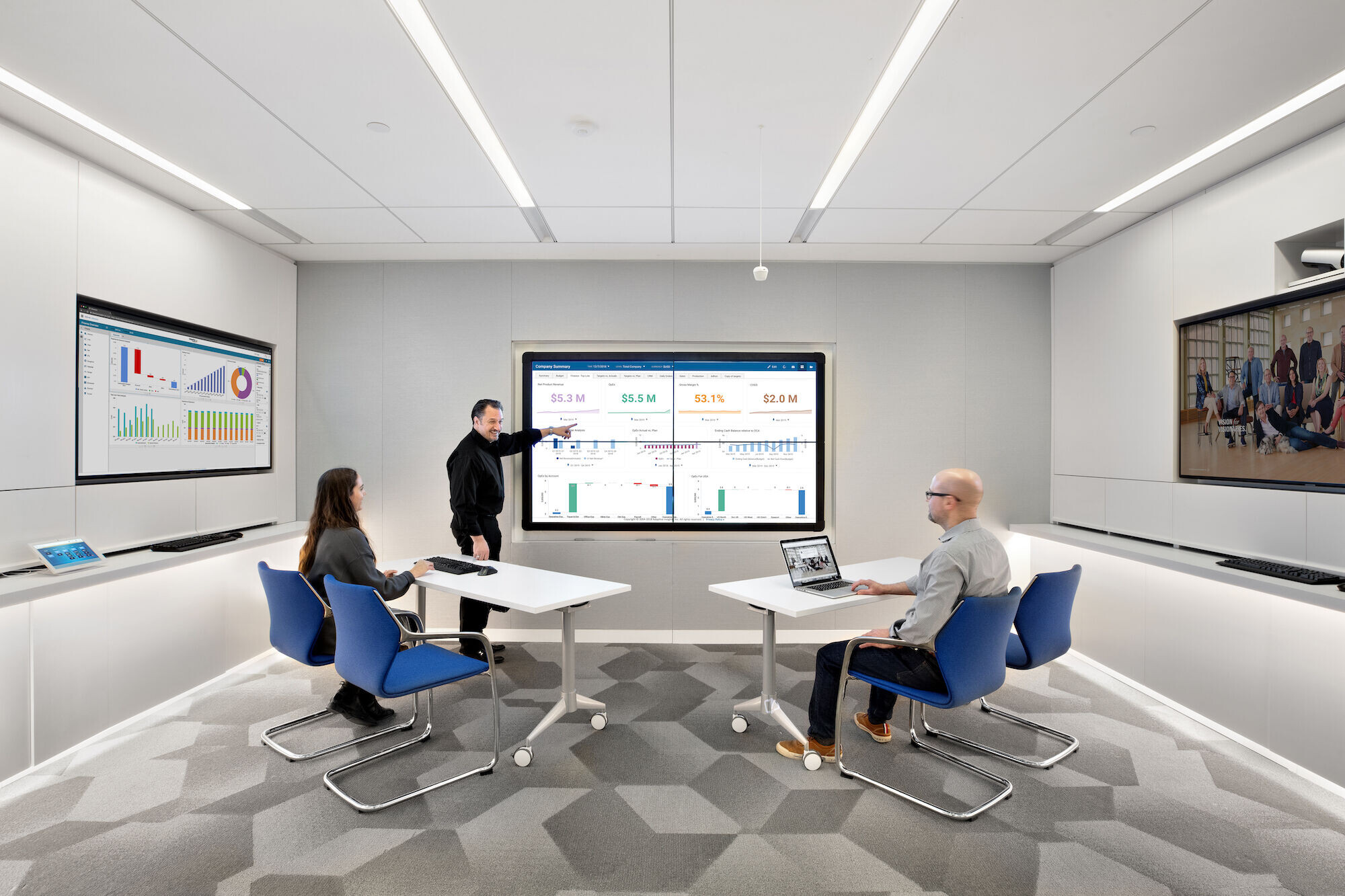 Focus Financial also wanted to expand their ability to support client meetings with a much larger conference center. TMA developed a multi-purpose boardroom adjacent to an open-plan amphitheater that, through movable partitions, can be reconfigured into a large "town hall" space for client events or employee training. In order to maximize ceiling heights, TMA utilized an open "lofted" approach that exposes structural beams and HVAC equipment. Acoustic felt baffles suspended from the ceiling help enhance performance.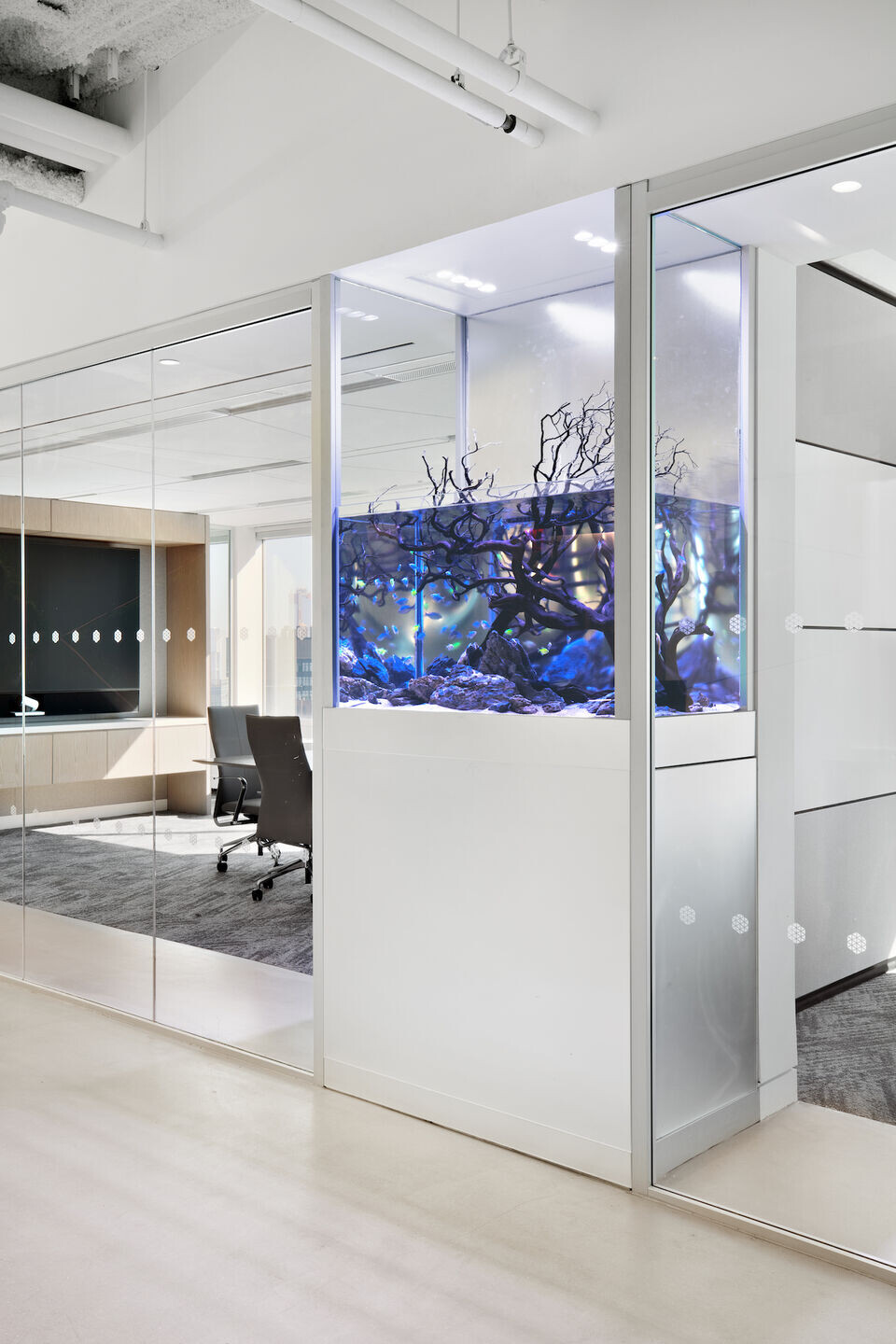 Team:
Architects: Ted Moudis Associates
Photographer: Will Ellis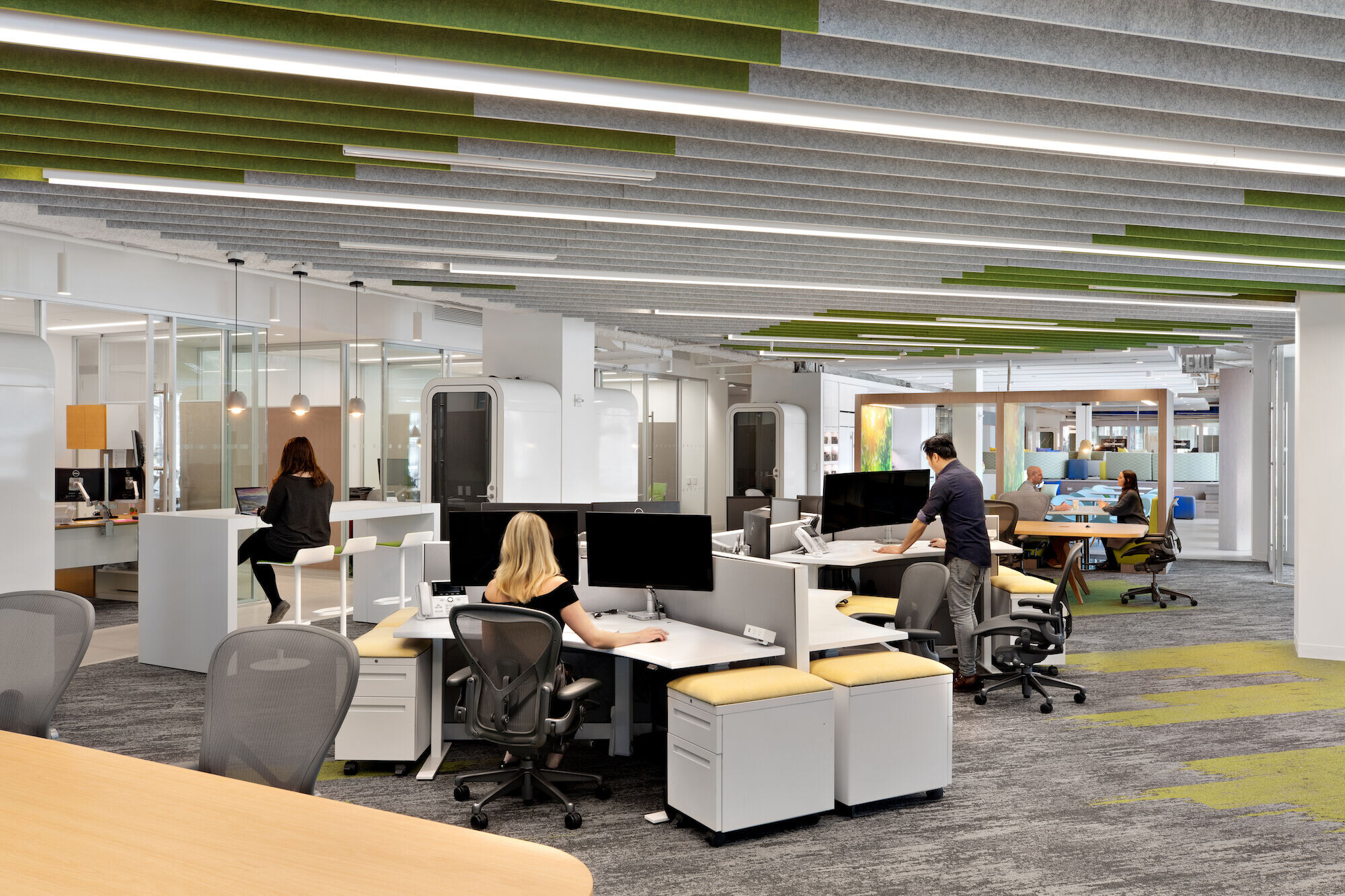 Materials Used:
● Lighting fixtures – Axis, Spectrum Lighting, Intense Lighting, Lumenwerx, Feelux, Amerlux, Mercury, Luminii, Acolyte, Zest, Pottery Barn, BasileBuilt, Tudo & Co, Tech Lighting, Boyd
● Ceiling tiles and grid – Armstrong, ACGI, Ezobord, Decoustics, Smith & Fong Plyboo, Techzone
● Fabric wrapped panels and window treatment – Filzfelt
● Plastic laminate – Formica, Abet Laminati
● Glass – McGrory, Carvart
● Ceramic / stone – Mosa, Corian, Hanstone Quartz, Silestone, ASI Flooring, Cosentino, Caesarstone, Stone Source
● Carpet Brand – Mohawk Group, Scott Group
● Flooring – Interface, Roppe, Durasound
● Reception furniture – Isomi Limited, Bernhardt Design, Davis Furniture
● Office furniture – Decca, Andreu World, De Padova, Herman Miller Inc., Roche Bobois, Prismatique Design Limited, Molteni & C, Allermuir, Clarus
● General Seating – Herman Miller Inc.
● Open Office- Artifort, Andreu World, Davis Furniture, Allsteel Inc., Nucraft, Bernhardt Design, Uhuru Design, OFS Company (Office Furniture System), Herman Miller Inc.
● Meeting Room furniture – Nucraft, Prismatique Design Limited, Davis Furniture, Herman Miller Inc., Knoll Inc., Andreu World, M2L Inc.
● Game Room furniture- Hightower, Herman Miller Inc.
● Phone Booths- Framery Oy
● Cafe & Stage furniture – Source International, Nevins Co., Davis Furniture, Knoll Inc., Martin Brattrud
● Custom Millwork – Island Architectural Woodwork, Inc.
● Wall System – International Architectural Partitions