The film Parasite was the cinematographic highlight of 2019 and at the same time our scenographic inspiration for the interior design of apartment in Ljubljana. The contemporaneity of both creative processes is of course purely coincidental, yet it is possible to draw similarities between the film world that offers plenty of visual inspiration and neatly intertwines all the creative spectres of the seventh art and the process of creating the interior that is dynamic, dramatic and dazzling - both the processes bring the crucial element of storytelling to the fore.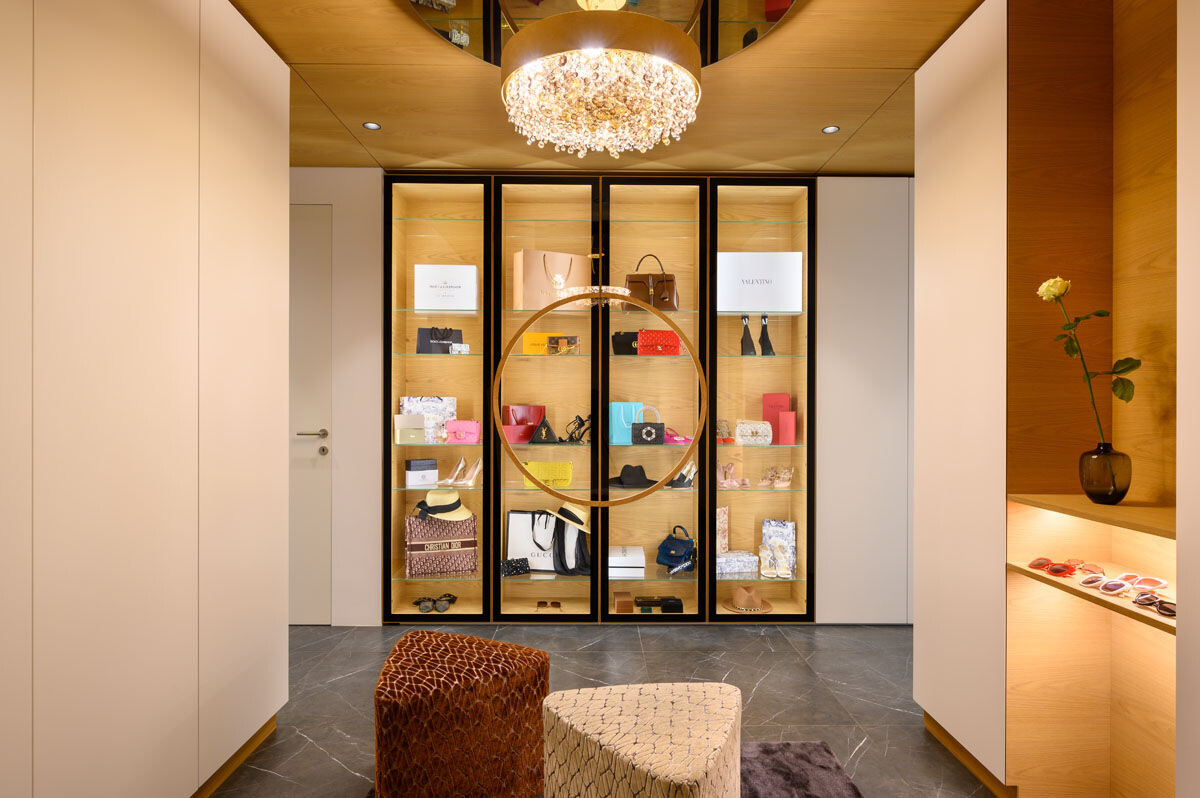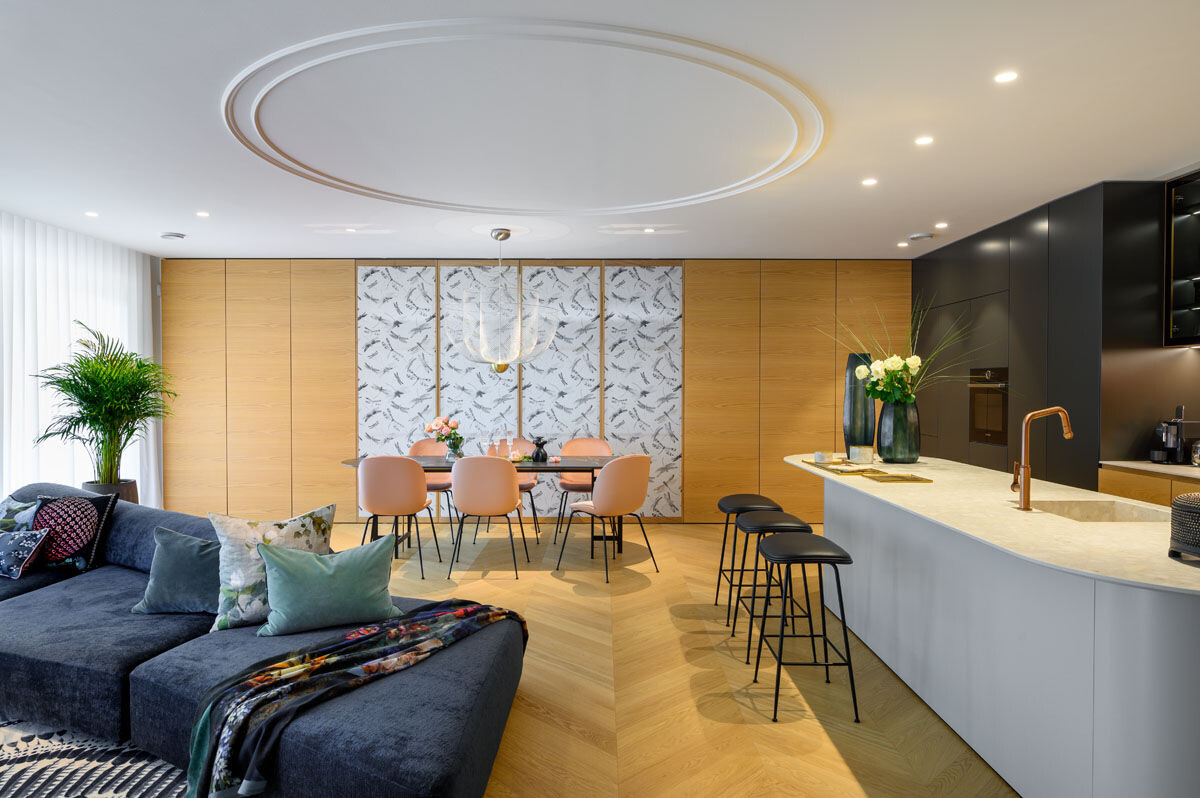 We were inspired by the apartment's elongated layout and the lighting that follows the entire floor plan. However, the greatest amount of inspiration came from the client herself who, as a social media influencer present mostly on Instagram, lives a really dynamic life and is constantly on the move. Therefore, the central theme of our design was to bring beautiful clothes, objects, spaces and ambiences to the fore and promote them in the best possible way. The balance between the charisma of the space and the charisma of the client's lifestyle is reflected in the warmth that was created by adding the wooden ceiling, rattan and velvet elements, delicate curtains and other accessories.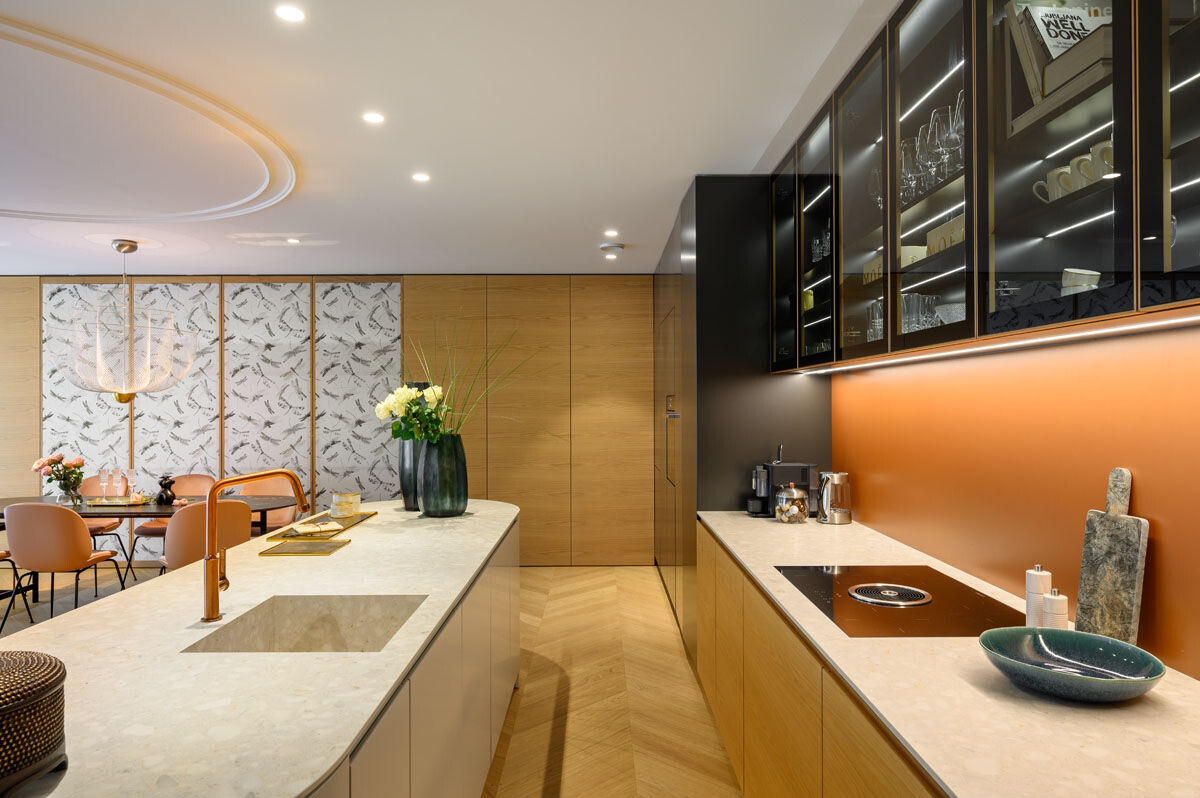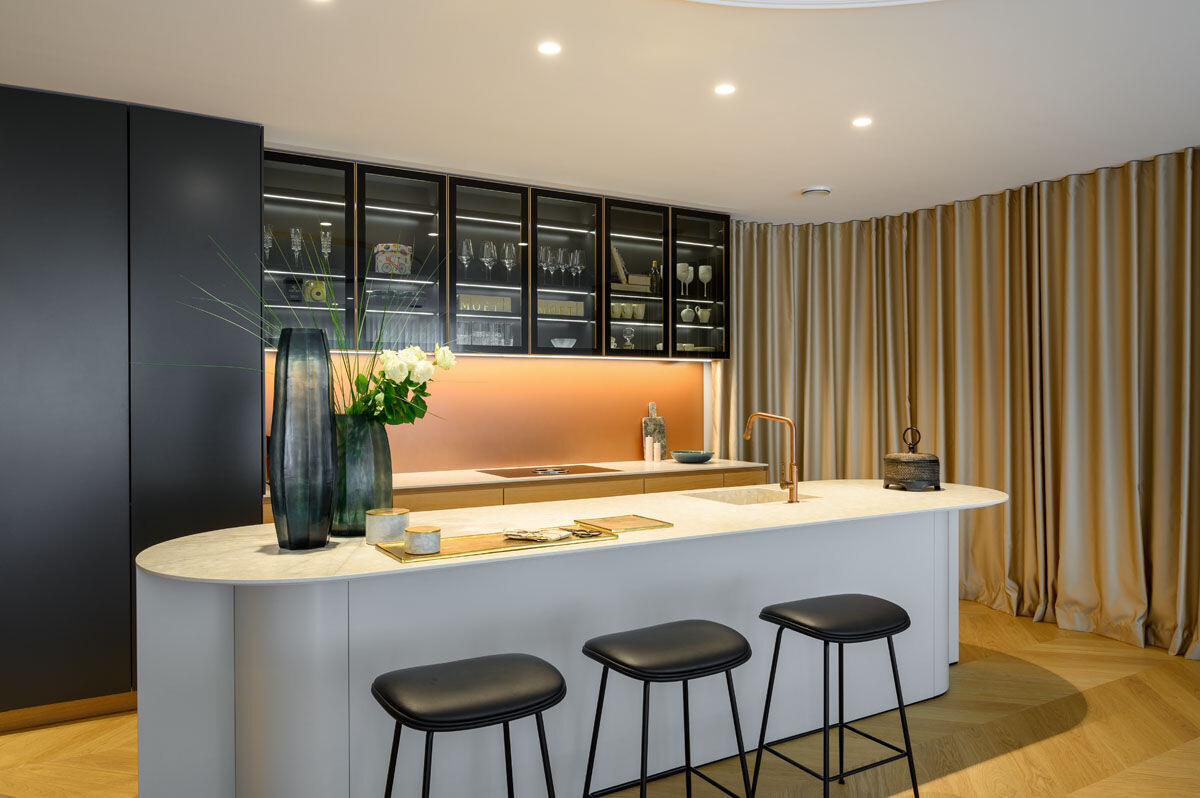 Our primary wish was to create an entity that is soft, feminine, full of comfort and mild transitions as well as lighting passages that all dictate the rhythm from accentuated to non-accentuated. A walk through the interior begins with a gleaming entrance with a closet in the main hallway acting as a light body that softly frames the client's breath-taking collection of designer shoes and fashion handbags. The left side of the apartment is characterized by the magnificent master bedroom with a bathroom, wardrobe and a huge central boudoir with three mirrors. The glass wall allows a view of the bathroom and the curtains on the outside provide intimacy as well as recreate the sound of the space, in which we used a lot of textiles that absorb all the disturbing sounds. On the left, the space softly transitions into the central living area where a symbolic round stucco connects all three sets: the kitchen, the living and the dining room area. The kitchen area is softened by a delicate curtain functioning as a finishing touch to all the high elements while the living area is accentuated by the gentle silhouette of the beautiful sofa by EDRA. The textile panels in delicate wooden frames are meant as a visual backdrop for an oval table decorated with GUBI powder pink chairs and the beautiful MOOOI chandelier.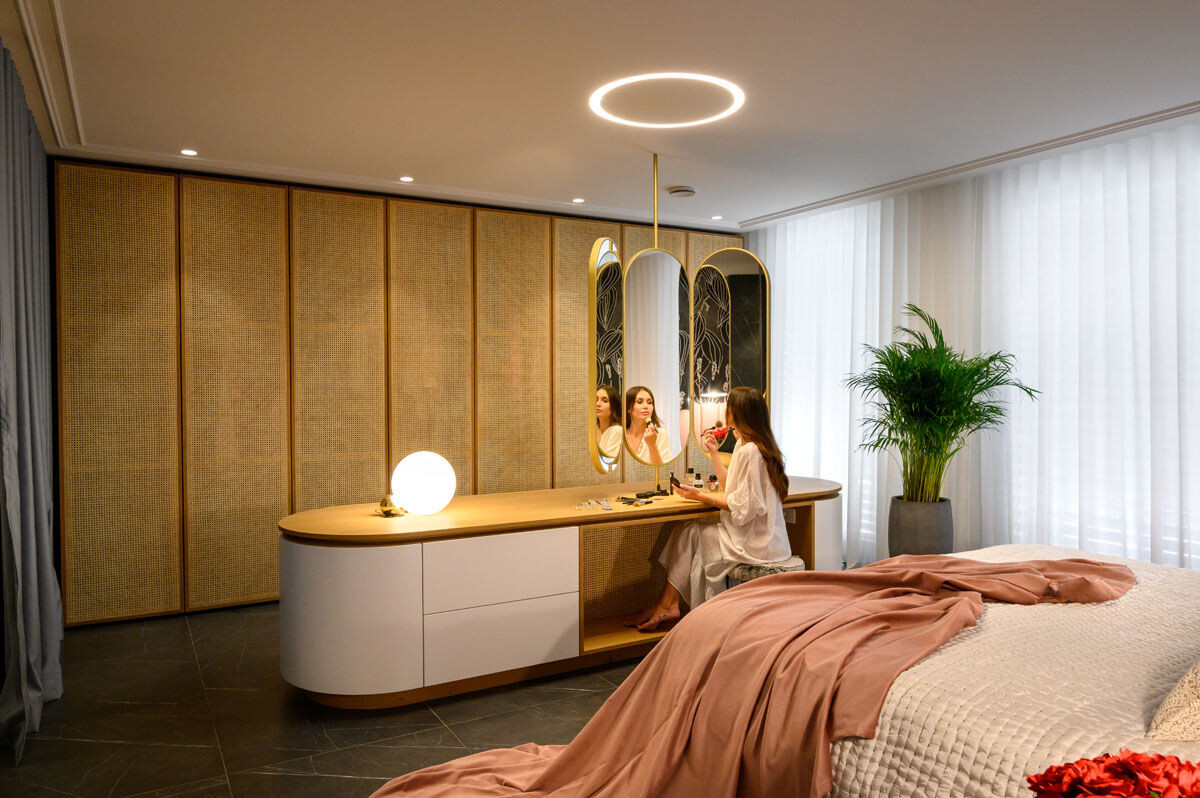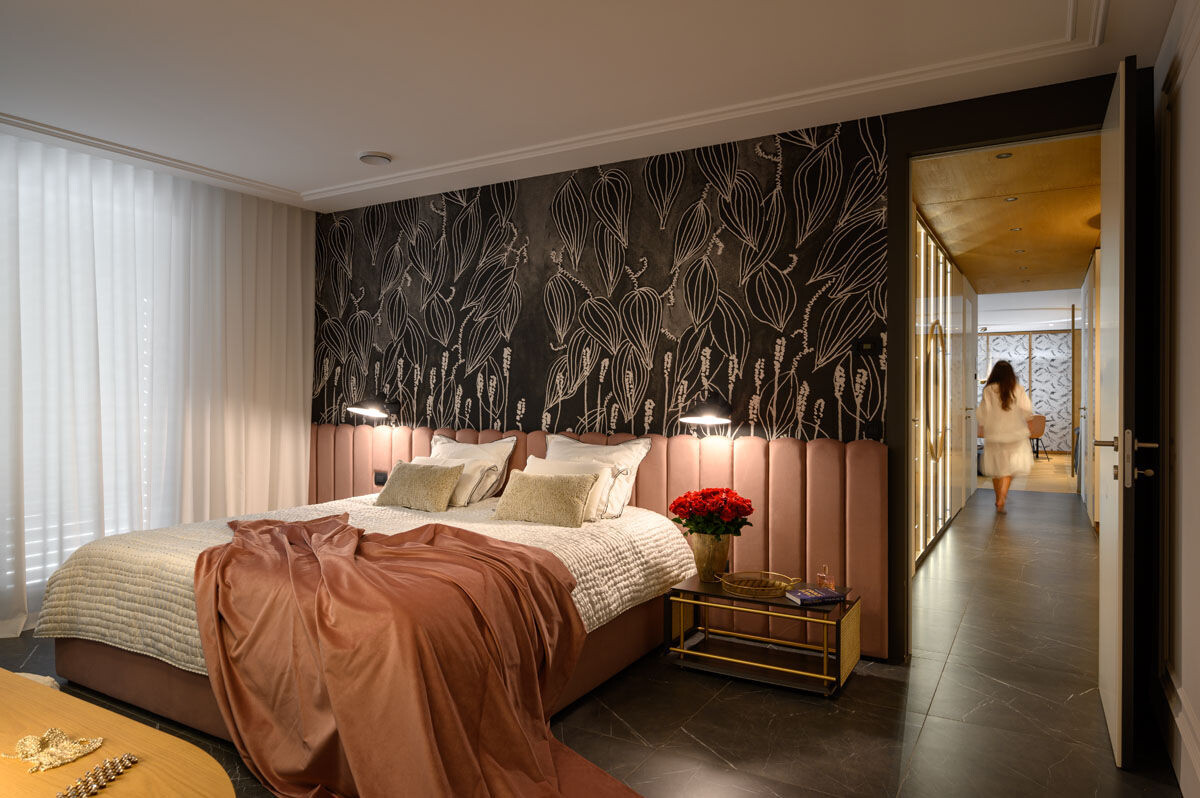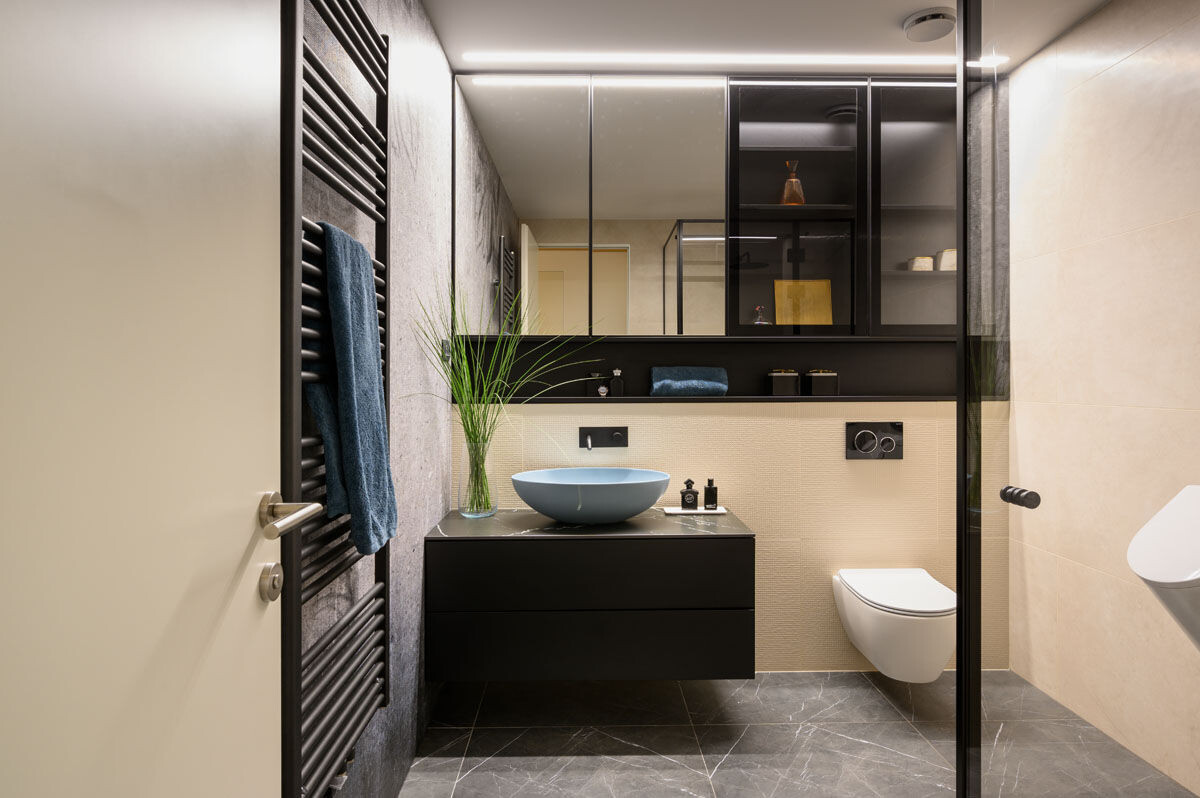 The overall look of the interior is modern yet full of contrasts between the warmth and intimacy of the home, the bold extravagances of its owner and the guidelines present in the space itself.
Authors: Petra Zakrajšek, Sara Hočevar, Urška Černigoj
Completion year: 2021
Surface area: 160,9 square metres
Location: Ljubljana, Slovenija
Photographer: Miran Kambič
Design furniture: Nova Showroom
Bespoke furniture: Mizarstvo Trunkelj (carpentry)
Textiles and curtains: UVA design
Lighting design: Svetlarna
Plants: Džungla plants